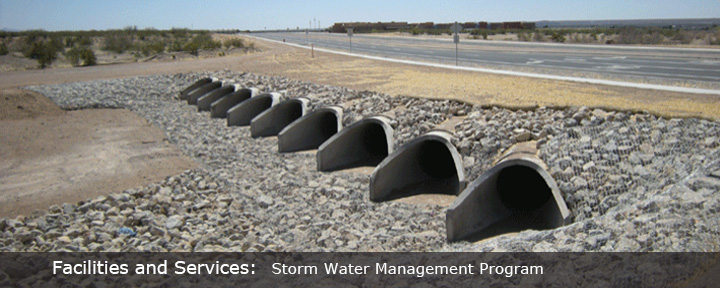 ---
NMSU operates a Municipal Separate Storm Sewer System (MS4) that is permitted by the Environmental Protection Agency. The MS4 consists of the streets, drainage ditches, and storm drain pipes that convey stormwater runoff through the campus. The permit requires NMSU to implement a program to reduce pollutants in stormwater runoff to the maximum extent practicable. Click here for an overview of our program – and we all play a role!
NMSU's Storm Water Management Program
Be Storm Water Savvy!
One of the most significant, yet unrecognized groups of water contaminants is storm water pollutants. When it rains, storm water flows over yards, streets, roads, highways, parking lots, parks, and playgrounds, carrying with it everything in its path, including trash and pollutants. Unlike sanitary sewers that divert water to a treatment plant directly from NMSU, storm drains lead directly to open water bodies – such as the NMSU retention pond at Sam Steele Way and Union Avenue – without any type of treatment. All the trash and pollutants that were picked up by storm water runoff, ultimately may end up in the Rio Grande via a series of ditches.
New Mexico State University's Storm Water Management Program for the Las Cruces campus includes six minimum control measures to protect water quality, as required by the Environmental Protection Agency. One of the measures, Illicit Discharge Detection and Elimination, differentiates between allowable discharges and illicit discharges into the storm drain system.
Allowable non-storm water discharges include such activities as potable waterline flushing; landscape irrigation; discharges from potable water sources; air conditioning condensate; irrigation water; lawn watering; individual residential car washing; de-chlorinated swimming pool discharges; and discharges from emergency firefighting activities.
An unallowable, or illicit discharge, is any discharge to the storm drain system that is not composed entirely of rain water or groundwater. Examples include dumping of motor vehicle fluids, household hazardous wastes, grass clippings, leaf litter, industrial waste, restaurant wastes, or any other non-storm water waste into a storm water system.
How Do I Spot an Illicit Discharge?
Watch for stains, unusual odors, out-of-place containers, water flow when no rain has fallen, and abnormal vegetative growth.
If you see an illicit discharge; REPORT IT to NMSU Environmental Health & Safety at 575-646-3327.
The program is especially important as the campus goes into the summer season, when thunderstorms can wash trash and other materials into the drainage system. Also, the EPA requires NMSU to keep pollutants out of the system of curbs, gutters, ditches and other structures it uses to channel storm water runoff on the Las Cruces campus.
Construction
Operators of construction activities on the NMSU main campus, including tenants, are required to comply with the NPDES General Permit for Stormwater Discharges from Construction Activities.
If the entire disturbed area is less than five (5) acres, including utility connections and the staging area, and the project will be of relatively short duration, the construction activity may qualify for a permit waiver.
EPA's Low Erosivity Waiver Calculator can be used to determine if the waiver is applicable to the project.
All other projects that disturb one (1) acre of more must prepare a Stormwater Pollution Prevention Plan (SWPPP) and file a Notice of Intent (NOI) to authorize the discharge of stormwater.
Helpful Links:
Household Hazardous Waste (HHW)
Residents of Family Housing can take HHW to the Amador Avenue Recycling Center at 2865 W. Amador Avenue. The Center is open 7 am to 5 pm on Monday through Friday and 8 am to 4 pm on Saturday and Sunday.
The Center accepts:

Paints and Paint thinners
Oil and Gasoline
Kerosene
Aerosols
Fertilizers
Batteries

 

Pesticides
Pool Chemicals
Developing Chemicals
Cleaning Chemicals
Acids
Mercury

Materials NOT Accepted:
No Asbestos
No Biomedical Waste
No Fire Extinguishers

No Radioactive Waste
No Explosives
No Cylinders

No Ammunition
No Electronic Waste
For more information on HHW disposal, contact (575) 528-3800, or go to www.thescrappypages.com/recycling.php

Stormwater Management Program Resources